GOAL: Brand Awareness, Lead Generation, and Sales.
Project Start Date: February 2015.
Project End Date: May 2016.
About Our Client
Home Improvement Company | New Jersey
New Jersey paving, asphalt, and concrete company serving commercial and residential clients targeting 3 surrounding local cities. 
Client Discovery & Challenges
In 2014 we were approached via LinkedIn to help "Advertise" for a local Masonry company, in efforts to generate leads from the internet.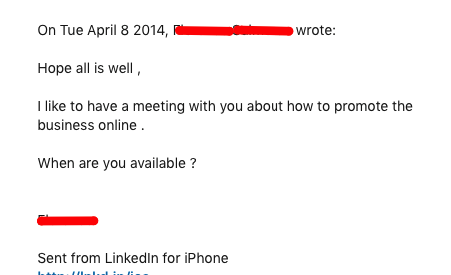 LinkedIn Approach ScreenShot 
Following our initial client discovery interview and understanding our client's needs and challenges, we learned that:
All prior prospect and customer acquisition were by word of mouth or HomeAdvisor lead generation service. 

 

Their existing company website at the time was a "brochure style" website lacking 

any

 useful content for their target audience. 

 

Their existing website lacked any historical analytical statistics. We started at zero. 

 

Their existing website had NEVER generated 1 single lead for their business.
Provided Solutions
We provided a variety of solutions that contributed to the overall positive results for our client. Following is a list of the deliverables with a description of what we provided.
Branding
Logo Design

Business Card Design & Print
We believe the website design and development phase is the foundation and base of all other digital marketing tactics. This website was created and structured with SEO and other future internet marketing traffic generating tactics in mind in which the website will have major future influence in its results. We were careful to follow Google's Webmaster Guidelines to help Google find, index, and rank the website.
Marketing
Provided proactive advice for continued domination in its landscape over the phone and in-person monthly 1 on 1 meeting. 
Keyword research is an ongoing process for digital marketing success but in the website phase, the purpose is to understand what kind of content potential prospects were already consuming and how they are searching for that content.
We used Google Adwords keyword planner to research valuable local search terms with high buyer intent, enough search volume, and accessible competition level to stay within the project budget while acquiring leads.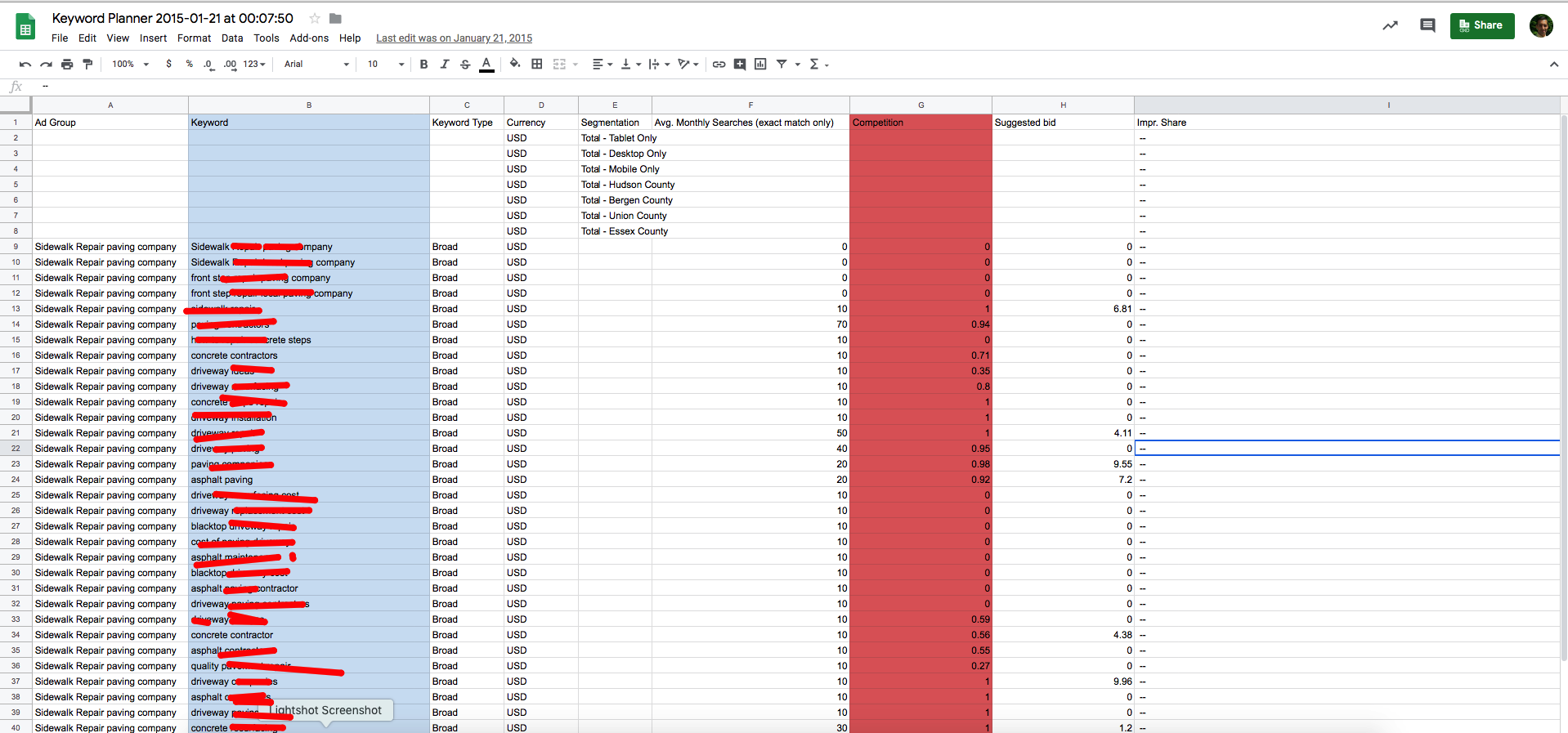 SEO Content Creation & Optimization
We researched the industry, it's customers, defined a target audience, planned out the content strategy, and delivered industry professionally written hyper-locally targeted SEO content, with a strong Call to Action that's useful for its potential customers.
Applied On-Page SEO best practices for local targeting:
Created unique keyword-rich title tags, meta descriptions, alt tags for images, and defined and optimized headings for each page on the website.

Ensured there were no indexing or crawling errors: 
Created a sitemap.xml and a robots.txt file so that search engines could crawl and index the website. Since we designed and developed the website, there were not many other improvements necessary at the time, we made that our priority from the start. 

We audited our client's local web presence using the correct phone number, business name, and address … we found unclaimed listings, had incorrect information, missing information, and/or duplicate listings. We corrected, and where applicable removed duplicate listings. Additionally, we researched and identified new niche-specific high-quality citation opportunities and created business profiles on those directory websites.
PPC Ads Campaign – Strategy, Setup, & Optimization
To complement the overall digital marketing strategy and to immediately generate highly interested targeted leads we launched a Pay Per Click Google Ads campaign. L.A. Marketing & Web Presence Consulting was responsible for the delivery of all creatives of the campaign. The campaign was set up to show Ads promoting the different services offered to potential customers who were in or showed interest in the 3 cities specified to target. The acquired jobs came from leads specifically searching on Google for those services our client offered. 
Leads to Phone Sales Conversions
We assisted in the appointment setting process. We set up a system whereby when a lead requested a free estimate one of our representatives immediately contacted that lead to set an appointment to provide the estimate. Contacting the customer within minutes by phone was key to increasing the number of completed jobs for the campaign.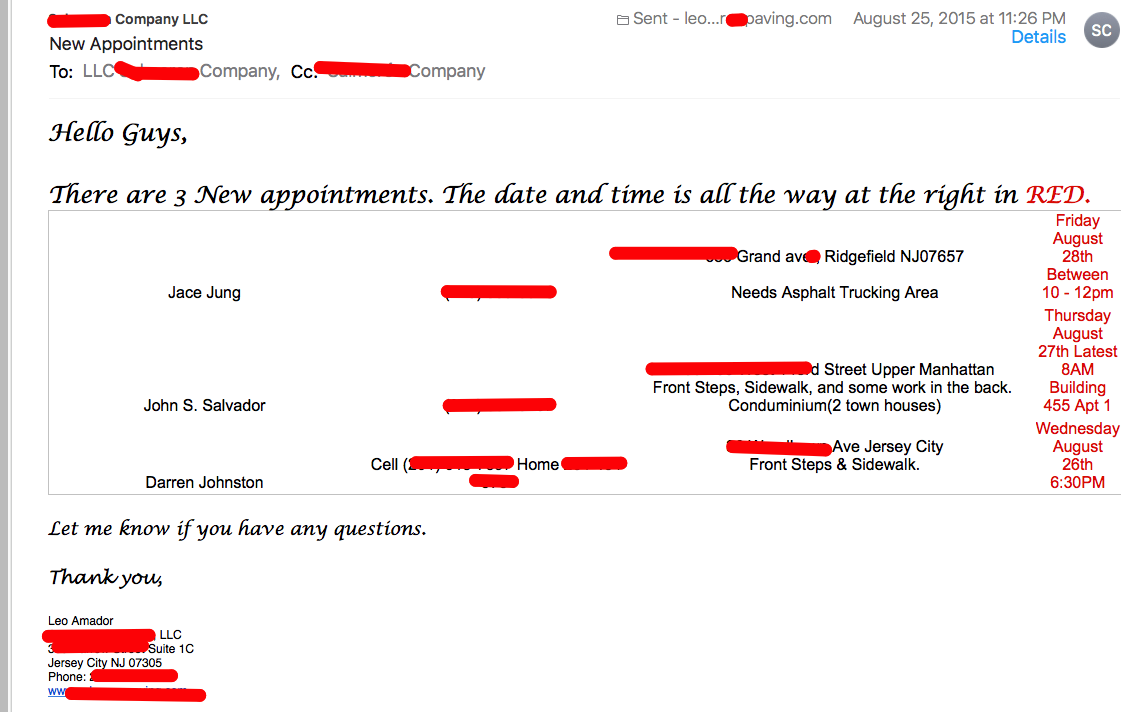 Measuring Results
Except for estimating a project and doing the actual masonry work we had involvement in the complete process from attracting a client to appointment setting, to closing the sale on these projects. Through different phases of the campaign we had different key performance indicators (KPI's)  to measure our performance: 
Keyword Rank Tracking Tools

Analytics to Measure Quantity & Quality of Website Traffic

# Phone Calls To a Specific Phone Line

# of Website "Free Estimate" Form Submissions

# of Appointments

# of Completed Jobs
Results
Below are the results achieved influenced by the above-described campaigns and tactics used. 
Over 109 Keywords Rank Number 1 in just 1 of the 3 local cities targeted.

Over 149 Keywords Rank Top 10 in only 1 of the 3 local cities targeted.

Over 180 Keywords RANK Number 1 across Google, Yahoo, Bing, and Maps.

1st Qualified Lead Generated March 17, 2015 (under two weeks from website going live)


Generated 15 – 20 Qualified Leads on Average Per Month